Wed, 05/09/2007 - 13:06 — Yuri
There are a lot of books about search engine optimization on the market. Most of them are aimed at making some quick cash, while publishing some old techniques that no longer work, some just describe real basics. But there is a small number of those, which can teach you the principles of solid SEO, which will help you to stay afloat forever. SEO book, by Aaron Wall of seobook.com, is one of them.
Overview
You get the SEO book by downloading it from the link, which you receive after payment. It is a PDF file of 300+ pages and you can navigate to sections by clicking on them in the contents list in the beginning of the book (also by entering the page number in the bottom of the Adobe Photoshop page and by scrolling).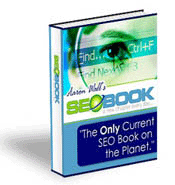 The book is structured in such a way, so you can start reading and learn the most useful information from the start. Further chapters explain everything you need to know in more detail. However, it should be recommended to not only read the book completely, but to re-read from time to time, as you'll be able to absorb newer information on each reading session.
Generally, you will learn:
what SEO is
how to build a site (content, structure, etc)
how to promote a site (social media, links, PPC, affiliates etc)
which tools to use, when working on your site
how to buy or sell SEO services
You'll get a complete and honest description of any SEO related topic from a SEO expert - something you hoped to find on forums, blogs or in other books. In each chapter you will find some advice, a real life example and a couple of links to learn more about the topic.
It should probably be better to read the book slowly, while checking the corresponding moments with your site. This way, you should see exactly what Aaron was talking about and will be able to reap the fruits of the book quite early.
You'll be walked from basic SEO stuff to more intricate moments of creating, improving and promoting your website. You'll learn all the vital points of website creation, thus enabling you to make your own decisions about the site.
As a bonus, you get a couple more PDFs to read, including interviews with prominent search industry figures and such (like just getting a great book for under $300 - $79 to be exact - is not enough).
Personal opinion
It was absolutely refreshing to finally read a book that spoke real truth about search engine optimization. There is only the clear advice on how best to act in your site situation, no hype or SEO myths you'd waste your time on involved.
Even as I didn't learn anything new from the book, it still reminded me to pay more or less attention to certain things on the projects. Probably, any book, audio or a conference should give such an effect, and the SEO book is no exception.
Another thing I liked about the book is that it is written in a simple language and tone - clearly helpful for the novice site owners. Another moment is that the book is updated quite frequently and you can get the updates forever for free (once you buy the book, that is).
How to read the SEO book
To get out the most out of the book, you need to:
take your time - try to understand (digest) the information, if something is not clear
check your site and see how you can apply a certain technique from the book to it, while reading the book, if you know what you are doing (after the "Why I haven't done it before!?" moment)
re-read the book from time to time, once you have run through your site and recheck your site, again
I'd keep the book open in Acrobat for days, when working on a site. It can be a good reference on what to do next with your website.
Reasons to read the SEO book
Regardless of your SEO knowledge level, you may want to read the SEO book, because:

you'll learn or be reminded of all the aspects on how to make your site popular with the people and the search engines
you'll know the latest and the most efficient trends on the SEO industry right from a SEO expert
you'll be able to learn and do anything you need about your website yourself
Now, if you have been studying the search industry for several years and live and breathe the Web (and Web 2.0), you may not learn something new, but your thoughts surely will become more focused on the customers and how SEO ties in there.
Rounding up
When there is a huge amount of information available online, it is important to make sure you only use the most efficient ways to improve your website and get noticed. With SEO book, you can get just the right advice to get you going in the right direction, no matter, if you are a recent site owner or a learning SEO professional.
If you are new to improving your website and getting more visibility or want to sharpen your skills and knowledge or just to become more confident in your skills, then the SEO book should be a good read for you.